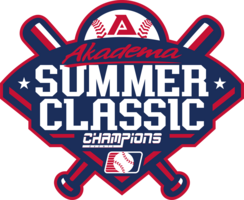 Akadema Summer Classic
July 26-28, 2019 Oswego,Syracuse, New York
Messages
We look forward to welcoming the eigthy (80) teams and fans to the 6th annual
Akadema Summer Baseball Classic
this weekend to Legends Fields in Oswego NY and the multiple locations in Syracuse NY.
Based on three (3) teams withdrawing this morning we are reworking the pool play schedule and the release set for 4:00pm today. Thank you.

7/22/2019 12:24 PM
Description
AKADEMA SUMMER CLASSIC - Open Invite to 9U - 10U - 11U - 12U - 13U - 14U - 15U Teams. The tournament will feature the first 54 fully paid teams in 2019. The tournament will be hosted by the City of Oswego at Legends Fields (6 lighted & Fenced Diamonds - Legends Grill) & Local Syracuse High Schools. This events is sponsored by Akadema Pro. Entry Fee includes 4 Games - seeded Single Elimination Playoffs. Also includes; Insurance - Game Balls - Umpire Fees - Awards! This is a Top 100 Baseball Scouted Event
Tournament
All teams
Boys: 15U, 14U, 13U, 12U, 11U, 10U, 9U
$495.00-$795.00 entry fee
4 game guarantee
Location
Legends Fields
99 Churchill Rd
Oswego,Syracuse

,
NY
,

13126
Directions
General Information
COACHES ARE REQUIRED TO READ ALL OF THE FOLLOWING IMPORTANT INFORMATION
Follow the STEPS Below to be eligible to play in any Champions Events tournament or TOP100 Sports Evaluation. Please take the time to read the information about our events and our tournament locations.
STEP 1: REGISTRATION AND PAYMENT
Coaches are required to set up a Team Account to Register for one or multiple Tournaments. 2019 Champions Events Per Team Entry Fee will vary depending on the Season and Location. Tournaments include:
3 & 4 game minimum (weather permitting)
Game balls, Umpire Fees, Awards, Tournament Central, Vendor Village

ONLY full payment will secure your teams spot in the tournament

.
Champions Events Payment and Refund policy Located in the Footer of this website.
STEP 2: CHAMPIONS EVENTS HOTEL POLICY
All 2019 Champions Events Tournaments are Stay to Play. Teams, traveling in from 75+ miles are required a minimum one overnight stay and are required to reserve your teams hotel room blocks through our Tournament Hotel Service Provider, SAREC SPORTS TRAVEL, in order to participate in our 2019 tournaments.

OFFICIAL TOURNAMENT HOTELS > >VIEW LIST HERE<
In order to receive a tournament schedule or a schedule request for your particular event(s), you are required to use our Hotel Service Provider. Sarec Sports Travel will do all of the work for you, in finding you the best available accommodations for your teams hotel needs. Teams not using our hotel provider will not be scheduled to compete.
Please contact Sarec Sports Travel at reserve@sarecsportstravel.com or call (888) 318-1376 Monday through Friday 9am to 6pm EST and one of our Sports Travel Managers will be happy to assist with your Hotel questions.
STEP 3: REQUIRED PAPERWORK
Teams are REQUIRED to submit a mandatory Team Roster at this website two weeks prior to the date of the tournament. Adjustments can be made at Check In.
STEP 4: SCHEDULING
Teams MUST be available to play for all scheduled time slots beginning on the first day of the scheduled tournament start date. Teams may be required to play at multiple sites in a given event, however we do create Age Group PODS.
STEP 5: ARRIVAL
Coaches are required to check-in their team 60 minutes prior to their first game.