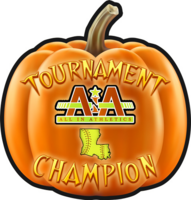 AiA Halloween Classic Divisions
October 19, 2019 Hammond, Louisiana
Messages
The Schedules are posted for Saturday.
https://allinathletics.net/schedules/
There will be a team costume contest and a Trunk or Treat for all to enjoy. Please bring a bag for those wanting to participate in the Trunk or Treat event.
We would like each team to donate a bag of candy for the kids that aren't participating in the actual tourney. The candy can be dropped off at the sign in table. It was a big success last year for the siblings who don't play ball, but have to be at the park with their sisters.
Thank you for choosing to #PlayAiA.
Attachment
10/17/2019 12:42 PM