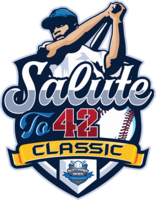 Description
THIS EVENT IS A 3 GAME GUARANTEE. ALL 1st AND 2nd PLACE PLAYERS WILL RECEIVE RINGS. FREE JERSEYS TO ALL PLAYERS!!
Tournament
Travel teams
Boys: 14U, 13U, 12U, 11U, 10U, 9U, 8U, 7U, 6U
Ability: A/AA/AAA
$325.00-$495.00 entry fee
3 game guarantee
Exposure Certified
Location
Southern Sports Promotions, LLC
(see below for EVENT LOCATIONS)
Multiple Park Locations

,
GA
,

30028
Directions
General Information
FREE JERSEYS LIMITED TO ALL PLAYERS ON YOUR ROSTER THAT ATTEND THE TOURNAMENT. For additional jerseys to purchase, please contact us to add to your order.

TOURNAMENT LOCATIONS
- Central Park, Cumming
- EE Robinson, Sugar Hill/Buford
- Shorty Howell, Duluth
- Rock Creek Park, Dawsonville
- City Park, Gainesville

EVERY PLAYER RECEIVES A SALUTE TO 42 GAME JERSEY!! IN ORDER TO RECEIVE THE JERSEYS, YOU MUST HAVE YOUR REGISTRATION FEE PAID BY MARCH 25th.

Teams must be prepared to play Friday night if scheduled.

ENTRY FEE
8uCP - $325.00 per team
8uKP - $425.00 per team
9u - $460.00 per team
10u - $460.00 per team
11u & 12u - $485.00 per team
13u & 14u - $495.00 per team

TO GUARANTEE YOUR SPOT IN THIS EVENT
All teams must pay in full to secure their team's spot in this event. If your team needs additional time to get a payment in to us, we will hold your spot for 5 business days. After 5 business days, your team's spot will be in jeopardy of going to another team who pays their entry fee prior to your payment.

TEAM & INDIVIDUAL GATE FEE
At selected parks, we will collect individual gate fees as spectators enter the complex. At other parks, a team gate fee will be collected prior to the start of the tournament. Team gate fee is $150 per team.

FORMAT
All teams will be split into divisions that are representative of their playing level. This is typically SINGLE A, A/AA and/or AA/AAA divisions. Depending on the number of teams entered, priority will be placed on making the event the most evenly competitive tournament. All teams will play two pool games, and then split into a Sunday single elimination championship bracket. With enough teams entered, division brackets can be separated further into gold, silver, and bronze Sunday brackets.

TEAMS CHOOSE DIVISION (at registration)
Each team will select their team's classification on (Single A, AA, or AAA), and what division (Single A, A/AA OR AA/AAA) they are requesting to compete in for the event. MAJOR teams are welcome in our events but MUST play one age group above their own, or play in their own designated MAJOR division.

AWARDS
RINGS for 1st and 2nd place teams in each division.

SCHEDULING REQUESTS ARE ALWAYS WELCOME
Southern Sports Promotions makes every effort to accommodate a team's scheduling request. Sometimes requests cannot be honored but we do consider ALL requests.

HOW TO SUBMIT A SCHEDULING REQUEST
TWO WAYS:
1) On the initial registration form that is completed on-line
2) Submitting the request via sspscheduling@gmail.com.
All other email methods, or text messages, are not guaranteed to be received by Southern Sports. PLEASE FOLLOW THE ABOVE GUIDELINES. SCHEDULE REQUESTS MUST BE RECEIVED BY THE MONDAY NIGHT PRIOR TO THE EVENT TO BE CONSIDERED!!

IF THIS EVENT IS COMPLETELY CANCELED, TEAMS WILL RECEIVE A 50% CREDIT FOR A NEW FUTURE REGISTRATION. IF ANY REFUNDS ARE PROCESSED, AN ADDITIONAL ADMINISTRATIVE FEE OF $75.00 WILL BE DEDUCTED FROM THE 50% CREDIT.

Registration
Registration is currently open for the following divisions:
To make a payment please visit the payments section of the event.
---
All event related questions should be directed to Southern Sports Promotions at southernsportsllc@gmail.com or call 678-463-2665.