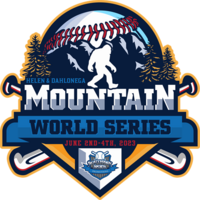 Messages
SSP All-Tournament Team
The Southern Sports All-Tournament Team has been posted for the Mountain World Series.
Check https://www.southernsportspromotions.com/all-tournament-team to see who made the team.
If your player made the list, please fill out the form on the page. We will have a special event to honor these players that you won't want to miss in July.
Thanks and congrats!
6/30/2023 4:11 PM
Lighting Delay Update
Teams can head back to the fields in Dahlonega at Yahoola Creek Park.
We'll plan to resume in the next few minutes.
Thank you
6/4/2023 6:02 PM
Lightning Delay-Dahlonega
We are currently in a lightining delay at Yahoola Creek Park in Dahnlonega. If you haven't gone to your car, please do so.
We will wait until 20 minutes after the last lightining strike near the park to resume.
Stay tuned for updates. Thank you.
6/4/2023 5:05 PM
The following teams are officially participating in the Southern Sports "THE MOUNTAIN WORLD SERIES".
Please note some teams may not be present yet. Click on the team to view more details.
---
All event related questions should be directed to Southern Sports Promotions at southernsportsllc@gmail.com or call 678-463-2665.