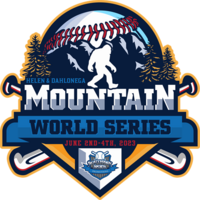 Messages
SSP All-Tournament Team
The Southern Sports All-Tournament Team has been posted for the Mountain World Series.
Check https://www.southernsportspromotions.com/all-tournament-team to see who made the team.
If your player made the list, please fill out the form on the page. We will have a special event to honor these players that you won't want to miss in July.
Thanks and congrats!
6/30/2023 4:11 PM
Lighting Delay Update
Teams can head back to the fields in Dahlonega at Yahoola Creek Park.
We'll plan to resume in the next few minutes.
Thank you
6/4/2023 6:02 PM
Lightning Delay-Dahlonega
We are currently in a lightining delay at Yahoola Creek Park in Dahnlonega. If you haven't gone to your car, please do so.
We will wait until 20 minutes after the last lightining strike near the park to resume.
Stay tuned for updates. Thank you.
6/4/2023 5:05 PM
Description
Come & play in the 2nd Annual Southern Sports "THE MOUNTAIN WORLD SERIES" just north of Atlanta in the north Georgia mountains! "The Mountain World Series" will be played at the new Yonah Preserve near Helen and Yahoola Creek Park in Dahlonega.
Tournament
Travel teams
Boys: 13U-8U
Ability: A/AA/AAA
$395.00-$495.00 entry fee
4 game guarantee
Exposure Certified
Location
Southern Sports Promotions, LLC
(see below for EVENT LOCATIONS)
Helen and Dahlonega

,
GA
,

30528
Directions
General Information
THE JUNE 2022 MOUNTAIN WORLD SERIES WAS A HUGE SUCCESS AS WE SOLDOUT ALL AGE GROUPS THAT WERE OFFERED. COME JOIN US IN 2023!!

TOURNAMENT LOCATIONS
- Yahoola Park, Dahlonega (9u, 10u, & 11u)
- Yonah Preserve, Cleveland/Helen (12u, 13u, & 14u)

PAYMENT IS REQUIRED BY MAY 1, 2023 OR WHEN THE AGE DIVISION IS FULL.

SOME AGE GROUPS WILL BEGIN PLAY ON FRIDAY MORNING. ALL SHOULD BE PREPARED FOR GAMES AS EARLY AS 10:00am ON FRIDAY.

SCHEDULES WILL POST ON MONDAY, MAY 29 BY MIDNIGHT. ONCE THE SCHEDULE IS RELEASED, NO CHANGES WILL BE MADE UNLESS THERE IS AN ERROR IN OUR SYSTEM.

ENTRY FEE
8uCP - $395.00 per team
8uKP thru 10u - $465.00 per team
11u thru 12u - $485.00.00 per team
13u thru 14u - $495.00 per team

INDIVIDUAL GATE FEE WILL BE COLLECTED AT ALL PARKS (NO ADDITIONAL TEAM GATE FEES)
- Adults $7.00
- Teenagers/Seniors $5.00
- under 12yrs free

SKILLS COMPETITION & PIN TRADING on FRIDAY NIGHT
Opening Night activities along with a great atmosphere!! We will host pin trading and skills competition with awards for each division and every category winners on Friday evening at Yonah Preserve. This event will begin at about 6:45pm on Friday night.

FORMAT
3 pool play games into single elimination tournament.
Bracket play will begin either Saturday evening or Sunday, depending on how many teams participate.

AWARDS
WORLD SERIES RINGS for 1st and 2nd place teams in each age group.

SCHEDULING REQUESTS ARE ALWAYS WELCOME
Southern Sports Promotions makes every effort to accommodate a team's scheduling request. Sometimes requests cannot be honored but we do consider ALL requests.


---
All event related questions should be directed to Southern Sports Promotions at southernsportsllc@gmail.com or call 678-463-2665.