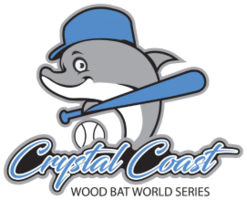 Top Notch Tournaments
presents
2022 Crystal Coast Wood Bat World Series Schedule
Morehead City, North Carolina
Messages
Derby Cancelled
Unfortunately, the folks a Croatan High School are not able to accommodate the Derby tonight. They've been out there since before 5 am working on fields and they just have too many games remaining to be played. They extend their apologies to the athletes who wished to participate.
7/16/2022 5:18 PM
Important Update
Folks we pouring everything we've got into this event - continue to hold your calls so that we can focus on best-case scenarios for all of your teams

Western Park Fields #1, #3, and #4 are playable for a 1 PM start. Field #2 will be ready at 3 PM if no more rain.

Croatan High School Field #1 and #2 are online to be ready at 1 PM or shortly thereafter.

Swansboro High School is also a go for 1 PM in Start.

West Carteret High School and Swinson Parks are both under a continued delay with best case scenario 5 PM start time and we will update both of these locations before 2 PM TODAY.
7/16/2022 10:40 AM
!!!!Delay All Fields!!!!
All Fields Are Delayed - working to be ready for 1:00 PM start at all locations - refer to the times posted on the website and adjust accordingly. Distribute this to your teams right away.

Fort Benjamin - For the teams who were scheduled to play here, we will be working to move your games to other venues this afternoon. We will directly contact you to make you aware of your game times as soon as we can make a determination on game time and field location.

7/16/2022 7:51 AM
Brackets Are Posted
As of 6 am, there have been no reported delays for today's games.

Sunday Brackets are now posted. We will be assigning fields and game times as we move into the afternoon today no later than 6 PM - we will broadcast a message at that time to alert everyone.
7/16/2022 6:17 AM
Dinger Alert For Saturday
For the 8U, 13U, and 15/HS divisions only which were postponed on Friday. They will not be offering an Adult Division due to field space and time constraints.

Croatan High School is hosting on Saturday evening weather permitting.
3355 NC-24, Newport, NC 28570

Use this link to enter your athlete and notify them you will be attending.

Check-in will begin around 6 pm and the derby should get underway by 7 pm. Walk-ups welcome. ( Go to the concession stand at baseball fields)

$50 DICK's Coupon for Champion and $20 for Finalist - PLUS a Trophy for the Champion and Finalist. The top slugger will also receive a Top Notch Tournaments Championship Ring!

PLUS!!! Don't forget to take advantage of your DICK's coupons this weekend for the Morehead City and Jacksonville Stores. Claim your coupons here
7/15/2022 10:25 PM
Revised Schedule Release
The revised schedule is about to go live, and our CCWBWS team cannot express our gratitude to you for your patience today. We got hit early after our folks had been out since before 5 am getting the fields playable for your teams. Rest assured, they will not quit on you and will be right back at it early tomorrow morning. We have a very volatile weather system moving through the area with 50% in the forecast for Saturday and Sunday. That said, and all things considered, we are going to make every effort to get all of you one pool game tomorrow and seed your teams into a modified bracket that would bring all of you back Sunday for a chance to win a division. We will post the bracket just as soon as we can execute our plans for tomorrow.

Time limits for tomorrow are back to 1 hour and 45 minutes for all divisions 9U through 15/HS and 1 hour and 30 minutes no new inning after 1 hour and 15 minutes. NO EXTRA INNINGS.

Thanks again from all of us - enjoy your evening and let's roll tomorrow!
7/15/2022 7:48 PM
Friday Cancelled - READ
Please distribute to all of your baseball family

All games in all age groups are cancelled for Friday July 15. If you purchased single day passes this morning, please save them as we intend to honor them on Saturday July 16.

Once the rain lets up we will have a lot of work to do at the field level. We intend to have a workable schedule for Saturday pool play by 8 pm this evening. Thanks to all of you for your patience and continue to watch for messages and notifications.

ccwbws team
7/15/2022 10:39 AM
Schedule Alert Friday AM
Find your field below and plan accordingly. Continue to check for message updates and distribute to your teams.

Fort Benjamim
Field #1 - no delay
Field #2 - no delay
Freedom Park
Field #1 - Delayed, decision by 12 noon on start times
Field #2 - Delayed, decision by 12 noon on start times
Swinson Park
Field #1 - No Delay
Field #2 - No Delay
Field #3 - No Delay
Field #4 - No Delay
Field #5 - No Delay
Western Park
Field #1 - No Delay
Field #2 - No Delay
Field #3- No Delay
Field #4 - No Delay
Croatan High School
Field #1 - no delay
Field #2 - no delay
Swansboro High School
Field #1 No Delay
West Carteret High School
Field #1 - No Delay
7/15/2022 6:56 AM
Western Park Derby Postpo
Raining at Western Park. Derby Postponed for this location only.
Looking to reschedule at end of day Saturday. Will release more info
When made available to us. Please help us distribute.
7/14/2022 4:18 PM
ROSTERS - Birth Records
You can view your roster online by clicking on your team name in the schedule and a page will open - scroll down and view your players and make sure all are added.

IF YOU HAVE NOT loaded your roster, they will be frozen and you will be LOCKED out at 11:59 PM tonight Thursday, July 14, 2022.

It will be an inconvenience to assist you with this further and it's doubtful we will be available due to the forecast - everyone in the event has been sent roster invites so check your spam folder. There is a minimum of $50 administrative fee if we have to assist you in adding players after receipt of this message. ANY PLAYER not on your roster before your first game of the event begins is considered an illegal player and you cannot add players once your first game begins. Having an illegal player can cause your team to forfeit.

Also. MAKE SURE you have with you a birth record for every player on your Roster. Any player without a valid birth record can also cause your team to forfeit the event. WE DO NOT CHECK BIRTH RECORDS EXCEPT WHEN A PROTEST FOR ELIGIBILITY IS FILED so the burden is on the team to have these records at the event.

Please travel safe and we wish the very best to all of your teams this weekend!


7/14/2022 1:15 PM
Wood Bats For Sale
The guys are easy to work with and offer a high-quality product - check them out!

See attachment

Game-ready wood bats of all sizes and bat grip tape (free installation) will be available for sale all weekend at Swinson and Western Parks beginning Thursday afternoon.

Bats will be available for purchase 30 minutes prior to the start of the first games. Visit their booths on site or contact Pete at 773-742-0795 for more information.
Derby Map Swinson Park
See attached map for Derby Fields for Swinson Park. This will help you get to the right field - it is a big park!

We do not have a map available for Western Park at this time.
Schedule-Weather Update
To all teams and age divisions.

Please see the attachment and go ahead and share it with all of your families and attendees.

Periodic, scattered thunderstorms remain a threat in this weekend's forecast and we're trying to get ahead of things prior to First Pitch on Friday morning by going to a 1-hour and 30-minute time limit (finish the inning in progress) in ages 9U through 15U/HS. In the 8U Divison, teams are already on a 1-hour and 30-minute scheduling window with no new innings after 1 hour and 15 minutes.

Until we can update the game schedule, use the information in the attachment and plan accordingly.

Donnie


Derby Deadline Noon Today
The deadline to pre-register for the Dinger Derby is noon today. Please note that our Derby hosts will take walk-up registrations but it is advised that you get there early. They also have the sole discretion to discontinue walk-up registrations at any time prior. It is so helpful to them to have all who intend to participate pre-register.
7/13/2022 6:10 AM
Pet Policy-Please Share
Leashed pets are allowed at Fort Benjamin, Freedom Park, Swinson Park, and Western Park.

Pets are not allowed at Croatan High School, Swansboro High School, and West Carteret High School.

Also - all-tournament locations are gun-free zones. No concealed carry.
7/13/2022 6:04 AM
Schedule Release
The Schedule will post at 8 PM tonight. Click to view the Schedule Page
and share will all of your families and attendees.

On behalf of our CCWBWS team, and all of our local host organizations, we look forward to this event and the excitement that all of your teams bring to the Crystal Coast year after year. We are honored to be your host and we are looking forward to seeing all of you next week!

If you have looked at next weekend's extended forecast it appears as though we may have potential, periodic rain issues to deal with. Hopefully as we get into the early part of next week the chances of rain will diminish. Regardless, we will be keeping a close watch on things and we will pass along any updates as soon as we can determine them necessary. Until then, just keep an eye on your inbox for updates and other information, and have yourselves a great weekend!

Donnie

7/8/2022 7:06 PM
Pre-tournament Update
We hope this note finds all of you well and getting ready for an exciting weekend of Baseball at the Crystal Coast! We are excited to host all your teams and our top priority is that it be a memorable weekend for all of you.

Note: Please share the attachment regarding gate admission, inclement weather, and the cooler policy with all of your parties that will attend the event.

The roster, Insurance upload, and online coaches check-in need to be completed by 9 pm on Tuesday, July 12.

Team Rosters: You should have already received an invite to complete your roster online. If not received, we will be sending out another round this evening.

To Upload team insurance click here.

To complete online coaches check-in click here.

The tournament Schedule will post here on Friday evening July 08, 2022. PLEASE share this link with all of your people asap.

Important CCWBWS Update
We are approaching 30 days to First Pitch in the Crystal Coast Wood Bat World Series. Please review all of the contents of this message and help us get your teams ready to play.

Topics Included: Team Payments, Tournament Schedule & The Home Run Derby.

If you have not submitted your team entry fee, it is important that you take action to secure placement in the event by the dates mentioned below.

Pay Online By Card: This feature will be disabled on Wednesday, June 22 at midnight. Click here to use the dropdown menu to find your team and pay now.

Pay By Check: All entry fees sent via US Mail/UPS/FedEx should reach us no later than Thursday, June 30, 2022. For our mailing address and to notify us that your team entry fee will be mailed click here now.

NOTE: If you have any issues submitting your entry fee by the dates mentioned above you should text 704-860-7011 at your earliest opportunity. Be sure to include your age division and team name with your message.

The Schedule will post on Friday, July 08, 2022, before midnight.

Please distribute the derby information to your players and families.
Click here for details and register for the Home Run Derby
6/13/2022 4:17 PM
Home Run Derby July 14
Please read all of the details on the Derby Page including Locations and Rules. Also, there is a pre-registration link at the bottom of the Derby Page for your parents to use to sign their players up. We are expecting over 250 participants this summer and we look forward to hosting all of your teams! Please distribute to your families and check out the following message from our sponsor Dick's Sporting Goods!

Click here to go to the Derby Page

Crystal Coast Wood Bat World Series, presented by Dick's Sporting Goods Shopping Event

20% OFF Throughout the Store!

Thursday, July 14 - Monday, July 18

Jacksonville & Morehead City Store Locations

Save the date! Our partner DICK'S Sporting Goods is offering all our event participants an exclusive discount of 20% off throughout the store! Be sure to grab all the things you will need for the season/tournament as well as all the other items that you have had your eyes on! To access exclusive savings, click the coupon linked below. The coupon is valid in-store on the dates above and must be shown at the register during checkout.

CLICK HERE FOR YOUR IN-STORE COUPON

6/6/2022 10:25 PM
Click on a division below or search for a team or athlete to view the schedule.
---
All event related questions should be directed to Donnie Harper at donnie.harper@topnotchtournaments.com or call 7048607011.