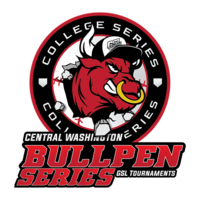 Messages
Field Updates
PLEASE KEEP IN MIND THIS IS ALL CONTINGENT ON THE WEATHER STAYING DECENT AND FIELDS GETTING PLAYABLE

SIGLER is cancelled for the day - completey under water (ACES are heading home, if LEGENDS want to stay and take the 2pm game on Greear I need to know asap.)


GREARis being worked on and will start at 10:00am (fingers crossed weather holds). There are 2 consolation games here that are now 2pm and 4pm. If anyone does not want to wait it out, please let me know asap - can add a 6pm if people want to play.

CWU FIELDis being worked on and will start at 10:00am, weather pending.

First goal will always be to finish the brackets so we needed to remove some consolation games from Sigler and have nowhere to put them. Assuming the weather holds:

Games are 1hr. 40min no new inning - get on and off the field and be ready to go. If we get back on time, we will go back to 2 hour game limits.
6/5/2022 7:10 AM
1 HOUR DELAY
It has been a pretty consistant drizzle throughout the evening. We are going to delay the games 1 hour in order to give it a chance to clear up as well as get to work on the fields in the AM. We will look to get everyone an update around 7:15am. Thanks and good luck in your games tomorrow.
6/5/2022 1:03 AM
Bracket Updates
Coaches,

Great day of baseball and the weather held off. Unfortunately the forecast does not look great BUT as you have noticed the fields can take a little water and only need a little bit of dry time. If we wake up and the fields are under water, we will delay if needed and give it a chance to dry out. Thank you to everyone for respecting the facilities and following expectations, lots of positive feedback from both the city and the school!

6/4/2022 7:43 PM
Sunday Updates
Please see updated schedules for Sunday. It is not perfect but we believe this will get everyone the most out of their weekend... If you are in the bracket, it is single elimination and you are done if you lose. If you are in the bottom 5 teams, you will play 2 consolation games (do not ask for times, we will schedule as teams are mathmatically eliminated). Thank you to everyone for being flexible and making this work!
6/4/2022 2:12 PM
Udpates
All games are on as scheduled tomorrow. Please check the schedule as there may be some minor changes... We did lose a team to the flu and bad weather so not traveling over. Nothing changed too much but please check.

We will have eyes on the fields at midnight to see progress of draining. We will be adjusting the sunday schedule as well to best finish out the event.
6/3/2022 5:31 PM
Schedule Updates
Coaches,

Schedules have been updated for tomorrow with very little changes... We will get a check on the fields tonight around midnight for updates and to make sure they are draining okay.

Fields have dried pretty quickly this spring but we will keep everyone updated. Working on adjusting the Sunday brackets as well since we have a team that we lost...
6/3/2022 5:19 PM
Friday Games Cancelled
All games tonight for CWU event have been rained out... Will have an update in the AM regarding field quality.
6/3/2022 3:45 PM
Final Rosters Upload Wed.
Coaches,

Reminder that all rosters need to be finalized and imported by 5:00pm tomorrow in order for a player to be good to go for the weekend. Anyone who is NOT showing up on your roster by this time will NOT be a legal player for this weekend's event.

Use the steps below to check on your player registrations.Sign into League Apps

Look for Season Registration (2022 Premier Sports Tournaments- Season Registration)- do NOT click this
CLICK- Team Name
CLICK ROSTER (on left hand side)

Once you are on the roster, you will be able to see each player's status.

Feel free to reach out to our rostering team at rosters@premiersportstournaments.com if you have any questions.
5/31/2022 10:37 PM
CWU Event Shedule
Coaches,

The schedule for this weekend's event has been released. Please remember the following:

1. This is a METAL BAT event
2. These are new events, in a new area on great facilities, respect the equipment, pick up after yourselves and treat the facilities with a tremendous amount of respect.
3. GSL Tournaments will provide all baseballs for the event.
4. Please have a printed roster for the CWU coaching staff and anyone else who may be around watching games. There will be staff from CWU at both locations.
5. Rosters need to be completed and turned in no later than Wednesday at 12:00pm. There is a $40/player one-time fee that covers ALL gates for ALL fans for ALL GSL, WCP and Seattle Elite events all season. NO ONSITE GATE FEES for 2022. If you need help with your rosters, please contact: rosters@premiersportstournaments.com.
6. It is about a 5 minute drive from Rotary to CWU - if you have back to back games here, please hurry from one site to another to make sure we stay on-time, none of the fields have lights.
7. The winning team needs to report the score to Arlo Evasick @ 360-316-9439.

Good luck to all teams and we look forward to seeing everyone out and about this weekend. I will be on site all weekend watching players for the PAC NW Games... If you have a particular player to watch, please let me know. Thanks!
5/31/2022 10:43 AM
Description
Tournament
All teams
Boys: 18U
$1,000.00 entry fee
4 game guarantee
Location
---
All event related questions should be directed to Arlo Evasick at arloe@gsltournaments.com.