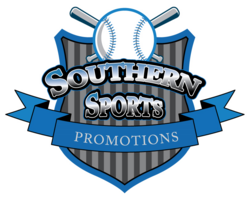 Southern Sports Promotions
presents
Southern Sports "SINGLE "A" WORLD SERIES" & "A/AA, AA/AAA Summer Scorcher" Venues
Multiple Locations, Georgia
Messages
UPDATE - PLEASE READ
As of 3:45pm, all Friday night games are on as scheduled. We will give additional updates if needed.

If we have any games canceled tonight, due to weather, it will impact scheduling for tomorrow so please monitor alerts, the website, and/or the phone app.

CONCESSIONS AT LANIER POINT - the concession stand WILL NOT be open Friday night, due to staffing shortages. PLEASE let all families know to come prepared tonight with any food/drinks prior to arriving at the park. The concession stand will be open during all hours on Saturday and Sunday. The city of Gainesville apologizes for any incoveinance.
6/11/2021 3:49 PM
FEW ITEMS
Please be aware of the following, an let your families know about gates and behavior please.

GATES: Dobbs is cash BUT Lanier is credit/debit only (this is due to the City of Gaionesville's ongoing COVID plan). $5.00 per person (10 yrs fee).

ROSTERS - online rosters are mandatory and must be in our system prior to your first game. For help in doing this, click the following
https://www.southernsportspromotions.com/rosters-rules-venues

RULES - we have LOCAL rules and then follow it up with NFHS rules. (same link as above)

CONDUCT - Southern Sports, City of Cumming, and City of Gainesville have "zero tiolerance" policies on conduct and behavior while at the parks.

GOOD LUCK TO YOUR TEAM!!
6/11/2021 11:20 AM
Gate Fees This Weekend
Please make sure all families are aware of the gate policy for this weekend.

DOBBS CREEK - cash as you enter the park - $5.00 per person (under 10yrs free)

LANIER POINT - debit/credit ONLY - $5.00 per person (under 10yrs free)
6/11/2021 11:14 AM
The following venues are being used for this event.
Dobbs Creek Park
Lanier Point
1579 Lee Waldrip Drive
Gainesville
,
GA
,
30501
1 (1)
,
2 (2)
,
3 (3)
,
4 (4)
Directions
---
All event related questions should be directed to Southern Sports Promotions at southernsportsllc@gmail.com or call 678-463-2665.