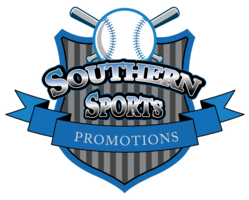 Southern Sports Promotions
presents
Southern Sports "SPRING INVITATIONAL" & "SINGLE "A" SERIES" Venues
Multiple Locations, Georgia
Messages
Sunday Update
In the past 90 minutes, all of our parks have gotten hit with another round of severe storms. We've been at the parks this afternoon and evening and this last set of storms has pushed the fields past the point of possibly getting them ready for play tomorrow. Unfortunately, the rest of the tournament has been canceled.
4/24/2021 9:04 PM
2:00pm UPDATE
We will be disabling the webpage and phone app page for this weekend in order to revise tomorrow's schedule. A lot of rain has fallen, and the fields are underwater with more rain forecasted tonight. We are making every attempt on the fields, and will continue to update you on the status of tomorrow.

Tomorrow's schedule will be the remaining pool play games with #1 vs #2 games Sunday night. Some divisions will also have #3 vs #4 games based on the number of teams in each division, and field space limits.

Thanks for your patience and we will post the "new" scheduling later today.
4/24/2021 2:14 PM
WEATHER UPDATE
As of 6:15am, all Saturday games have been canceled due to the weather system that is moving through our area.

We will release the Sunday format/schedule by 6pm today.

Thanks for your patience.
4/24/2021 6:22 AM
FRIDAY GAMES - GATES
If your team is playing in a Friday night game tonight. Please expect the following gate fee procedures....

BETHESDA PARK - each team will pay a team gate prior to the first game tonight.

SHORTY HOWELL PARK - individual gate fee as you enter the baseball complex tonight....$5 per person (under 10 yrs free)

Thank you for joining us tonight!
4/23/2021 3:47 PM
The following venues are being used for this event.
Bethesda Park
225 Bethesda Church Road
Lawrenceville
,
GA
,
30044
Bethesda Park F1 (1)
,
Bethesda Park F2 (2)
,
Bethesda Park F3 (3)
Directions
Dobbs Creek Park
Dwight Terry Park
13395 E Cherokee Drive
Ball Ground
,
GA
,
30107
Dwight Terry Park 1 (DT 1)
,
Dwight Terry Park 2 (DT 2)
Directions
Rhodes Jordan
100 E Crogan Street
Lawrenceville
,
GA
,
30046
Rhodes Jordan 3 (RJ 3)
,
Rhodes Jordan 4 (RJ 4)
,
Rhodes Jordan 5 (RJ 5)
,
Rhodes Jordan 6 (RJ 6)
Directions
Shorty Howell Park
2750 Pleasant Hill Road
Duluth
,
GA
,
30096
1 (1)
,
2 (2)
,
3 (3)
,
4 (4)
Directions
---
All event related questions should be directed to Southern Sports Promotions at southernsportsllc@gmail.com or call 678-463-2665.