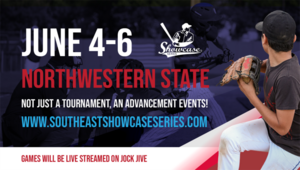 Messages
Sunday Games
Games @ Glenmora are cancelled. More rain through the night makes the OF unsafe and continued rain today.

We are going to try to play at NSU the regular schduled games but will notify if things change
6/6/2021 8:24 AM
Changes for Sunday
As Many HS is in bad shape, there will be no more games after tonight. Schedule has been changed. Championship games will not take place. Weather permitting, we will play the currrent posted schedule at NSU and Glenmora.
6/5/2021 8:15 PM
Many High School
Pouring Rain in Many, when we resume (after rain) games will be 1:30 min for the remainder of the day for all teams at Many High School.
6/5/2021 4:04 PM
Back on at NSU
Play has resumed at NSU.
6/5/2021 12:46 PM
Rain Delay @ NSU
In a rain delay at NSU. Will update as soon as tarps are pulled back off
6/5/2021 12:41 PM
Schedule Changes
Please see schedule as we added a game at Glenmora and the games will be 1:30 min. Other teams that were playing at LC have been rescheduled as well. Weather will be rough, so more changes possible
6/5/2021 10:23 AM
Sat Games
Louisiana College Games are off schedule for now. Remainder of games are still on schedule as of now and we are working to reschedule those games that were at Louisiana College. Some likely will be tomorrow
6/5/2021 8:52 AM
Louisiana College Games
Games at Louisiana College will not be played as outfield is unplayable. Head coach just called. We are working to move games and will post updated schedule as soon as possible.
6/5/2021 8:41 AM
NSU
About 20 min behind schdule at NSU but playing again
6/4/2021 5:41 PM
Weather Alert - NSU
Currently in a rain delay at Northwestern.
6/4/2021 5:09 PM
Weather Alert - Test
Right now, all fields good. Testing Alert System (NSU EVENT)
6/4/2021 4:40 PM
Description
Not just a tournament, and Advancement Event. This Event will feature live broadcast by JockJive as well as nice Turf Fields.
Tournament
All teams
Boys: 12th, 11th, 10th, 9th
$800.00-$900.00 entry fee
4 game guarantee
Location
General Information
No metal spikes on turf fields!!

4 games for all. Top 2 play for Championship

Bring your own baseballs and teams can bring coolers for dugouts. Fans can bring food or drinks to NSU and La College as no concessions will be sold.

W/L, Runs Allowed, Runs Scored as all teams do not play one another for Championship bracketing

Games are 1:50 in NFHS rules with Showcase Rules allowed (extra hitters, runners, etc - all on website)

Turn in rosters as games are broadcast on JockJive Network (NSU Field Only) Any issues with JockJive please contact Robert Williamson at 334-488-1385

Mercy is 12 after 3, 10 after 4, 8 after 5
---
All event related questions should be directed to Jerry Martinez at jjm@southeastshowcaseseries.com or call 337-329-0553.