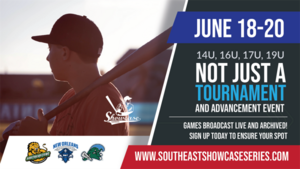 Messages
Weather Update
We are continuing to monitor weather and it not looking good. We have decided in the best interest of safety to go ahead and cancel event. We hope everyone remains safe and we look forward to better weather in the future.
6/17/2021 11:05 AM
Southeast Challenge UNO/SLU/Nicholls offers the following divisions. Any documents can be viewed, printed or downloaded.
---
All event related questions should be directed to Jerry Martinez at jjm@southeashowcaseseries.com or call 337-329-0553.