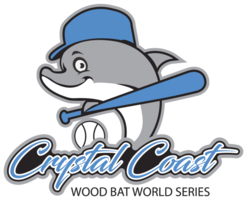 Top Notch Tournaments
presents
2020 Crystal Coast Wood Bat World Series Schedule
Morehead City, North Carolina
Messages
Championship Sunday
Good Morning & Good Luck To All of Your Teams! Thank you all for working with us in accommodating the guidelines. It has been a pleasure to host all of you this Summer. Please travel safely today and we hope to see all of you next July 16-18 at the Crystal Coast!
7/19/2020 6:33 AM
Concessions -Field Info
Please share

Swinson Park - Full Concessions
Freedom Park - Food Truck
*Eastern Park - No Concessions
*Western Park - No Concessions
*Fort Benjamin- No Concessions

At Eastern Park, Western Park & Fort Benjamin - small carry in coolers will be allowed for Spectators. PLEASE keep all chest type coolers in your vehicles.

Field Info: locate your field at thepark

https://baseball.exposureevents.com/assets/files/125963.pdf?v=16286617&r=7913
7/16/2020 12:17 PM
Derby Fields by Age group
Please Read & Share
To All Team Managers
If you are receiving these emails it is your prime responsibility to have all of your people prepared prior to Friday, July 17. I am still getting emails and text messages regarding how strict we will be on the 25 person limit. I am concerned that this information is either not being distributed or it is not being taken seriously. If people are just looking wiggle room – there is NONE.
After your review, It is strongly recommended that you copy and share with everyone attending with your team. I know it's redundant but do not assume all of your people are getting the information. It would be a good idea to have a person to person call with each family and place the burden on them to get this information to extended family.
THE 25 PERSON LIMIT must be maintained, and managing that number is 100% the responsibility of the TEAM MANAGER and ALL of his/her Attendees. Be assured, if we do not ADHERE at ALL Times the potential to have the event SHUT DOWN is GREAT and it would be 100% out of my control. We have an opportunity to enjoy Baseball this weekend and we would not be taking these drastic measures were it not a Public Health and Safety Concern. These are the CDC and NC Guidelines. Should it become necessary and In the best interest of the event and all of the teams attending we have the full discretion to remove any individual or group of people (including A team) from the event without refund. PLEASE, PLEASE do your PART!
Anyone inside their vehicles does not count against your 25 spectator limit. Share Time among Yourselves If Necessary. We are not limiting the number of tickets sold to each team so make this work for everyone!
If you do not have the correct change for admission tickets you will be turned away at the gate.
If there are no concessions at your park you may bring in a small handheld cooler for your immediate family members only. LARGE CHEST TYPE Coolers should remain inside vehicles at all times.
No Team Coolers – Players and coaches should have their own personal carry in type cooler. NO sharing among non-family members
Please Review The COVID!9 Guidelines



Please have the correct amounton hand to purchase gate passes.We will not have change on hand for this event.

Adult Weekend Pass$25 or Single Day Passes $10

Student-Senior Weekend Pass$20 or Single Day Passes $8

**Free Admission To Children Under 7 years old.**
7/13/2020 2:21 PM
Schedule Information
The Schedule is set to post later this afternoon, a little earlier than I first expected. I want to take this opportunity to thank all of you for supporting the event this year because three months ago it did not even seem to be possible. Like all of you, I am hopeful Phase 2 will expire next Friday. That said, I cannot stress how much we need for your families to work with us in regards to the posted Guidelines especially the spectator limit. If we go to Phase 3 we will adjust as we are allowed to.

When the schedule posts, we recommend that all of your coaches and parents click on your team name in the pool listing and sign up for free notifications. This is a powerful communication tool that we use to push out information regarding any weather or schedule issues that may arise during the event. Please unsubscribe after Sunday so that you do not receive unwanted communications through our marketing tools.

Division Information:

8U Division
1 Championship (ELITE) Bracket. 1 Gold and 1 Silver Championship Games.
1-hour 15-minute time limit all games for the event. Pool Play games can end in a tie. International Tie-Breaker will be used in Bracket & Championship Games.

9U,10U,11U,12U,13U and 14U
2 Championship Brackets (Elite & Select). 2 Gold and 2 silver Championship Games.
1-hour 30-minute time limit all games for the event. Pool Play games can end in a tie. International Tie-Breaker will be used in Bracket & Championship Games.

15U
1 Championship Bracket. I Gold Championship Game.
1-hour 30-minute time limit all games for the event. Pool Play games can end in a tie. International Tie-Breaker will be used in Bracket & Championship Games.

You will be able to access the Schedule here before 6 PM today.
https://www.crystalcoastwoodbatworldseries.com/Game-Times.html

See you all next weekend. Travel safe!

Donnie


7/10/2020 2:27 PM
Derby Update - Important
Please share with all of your families:

Our hosts have a plan in place to expand participants to 40 per age group in the Home Run Derby. AND, they will allow participants to provide their own pitcher. THE PITCHER will count as the ADULT/Spectator for that participant. We will activate the online form tomorrow afternoon around 5 PM so that others may register. PLEASE, if you already have players entered give those teams not represented an opportunity to be included.

ALSO - they are adding an ADULT / COACH Division to the Derby. The limit will be one coach from each team across the age groups. Those representing teams in the age divisions 8U,9U,13U, and 15U will be at Western Park. Ages 10U,11U,12U, and 14U will be at Swinson Park. We are breaking this up into two locations so that we can hold down the number of attendees. We will add a form and a link tomorrow afternoon around 5 PM for ADULT/COACH Registration. If you bring it you can swing it in the Coach Divison so long as the bat is legal and approved for baseball. FENCE DISTANCE will be 300 FT, and the participant must provide his/her pitcher.

Finally - our hosts are only accepting pre-registrations for the Home Run Derby. They will accept CASH ONLY at the park at check-in. There will be walk-up registration at any of the venues.

Thanks to all of you in advance for following the COVID19 Guidelines at all times. We need everyone's help to make sure this event is a memorable experience for everyone.
7/6/2020 9:23 PM
Home Run Derby
The Home Run Derby Info is now linked up. Please share it with your families.
NOTE- our Hosts are only taking 20 participants per age division this year. Please hold your calls and emails regarding this.

Visit the Who's Playing Page and look for the Red Derby Buttonfor details and to register your child.
7/3/2020 8:47 PM
July 02 Announcement
To Alll Team Managers

Please forward and share with everyone afilliated with your team including extended family members. WIth the extra burden of COVID 19 we want to make certain this information is communicated to everyone before arriving at any of our venues.

Clarification on the 25 person spectator limit.

Click to view COVID 19 Guidelines - distribute to all.

This will be monitored each day. County Officials will also be out at the parks observing how we are complying with COVID 19. Please be advised that if your party exceeds 25 family members (all ages), those over the limit will need to remain in their vehicles in the parking areas. If the limit will affect your team we strongly suggest that you work out a plan to share time at each game. It is essential that all spectators comply at all times. We do not want our tournament staff to have to request that any team trim back their numbers in the spectator area. In the best interest of all attendess We reserve discretion to remove some or all of a teams spectators who are not complying with the written guidelines.

NOTE: Playgrounds will be closed. Young siblings are to remain in the spectator area with their family members and are discourgaed from roaming around the park unsupervised.

Return To Play Waviers

Click here to view and print.

We strongly encourage a Return To Play Waiver be comleted for everyone afilliated with your team including family and extended family members. These are to be submitted to your site director along with a copy of your Team Roster before your first schedule game on Friday July 17.

Gate Fees / General Admission

Due to COVID 19 We will only accept the correct amount for the purchase of Weekend or Single Day tournamanet passes. We will not be handing back change.Please be prepared before you make your way to the park. Most of our gates are Drive up not walk in. With out the correct amount you will not be able to access the parking areas.


Adult Weekend Pass $25 or Single Day Pass $10 per day
Student - Senior Weekend Pass $20 or Single Day Pass $8 per day

There are no refunds or rainchecks for any tickets. Tickets are good for all venues.
7/2/2020 8:06 AM
Coaches Information
Hey, Teams!
With just over 80 teams on the board, we are getting close to #realbaseball
Please share the information regarding the COVID19 Guidelines and Gate Fees with all of your families.
Entry Fee Deadline is extended to Thursday, July 02, 2020. The deadline to enter is tomorrow June 26. Most age groups are at capacity with a waitlist. Teams that do not submit payment by the date listed here will be dropped, and any remaining waitlist teams may pay and claim entry into the event. Waitlist teams will be considered in the order that they registered.
CLICK HERE TO PAY ONLINE
NOTE: If you have not already placed your team entry fee in the mail, we suggest using the online payment tool. Checks that arrive after July 2nd are subject to being returned to the team.
COVID 19 Guidelines - Please distribute a copy to every coach and family member (even extended family) that will be attending this year. We must have compliance across the board at all venues. Click here to view, print, and share.
Gate Fees:
To limit contact and to speed up getting you into the park we will only accept the correct amount of cash for the ticket price. We will not be handing back change at this year's event. Please help prepare your families for this.
Adult Weekend Pass $25 or Single Day Passes are $10 per day.
Student - Senior Weekend Pass $20 or Single Day Passes are $8 per day.
Participation Waivers will be made available and distributed on Monday, June 29, 2020. Each player, coach, and any family member will be required to complete a waiver. Waivers should be collected by the head coach/manager and turned in on Friday before their first game.
6/25/2020 1:43 PM
Click on a division below or search for a team or athlete to view the schedule.
---
All event related questions should be directed to Donnie Harper at donnie.harper@topnotchtournaments.com or call 7048607011.