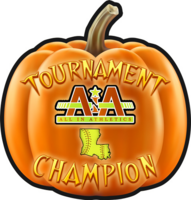 AiA Halloween Classic
October 19, 2019 Hammond, Louisiana
Messages
The Schedules are posted for Saturday.
https://allinathletics.net/schedules/
There will be a team costume contest and a Trunk or Treat for all to enjoy. Please bring a bag for those wanting to participate in the Trunk or Treat event.
We would like each team to donate a bag of candy for the kids that aren't participating in the actual tourney. The candy can be dropped off at the sign in table. It was a big success last year for the siblings who don't play ball, but have to be at the park with their sisters.
Thank you for choosing to #PlayAiA.
Attachment
10/17/2019 12:42 PM
Description
1 Day Format: 3 Game Guarantee - 1 pool game & double elimination bracket Entry Fee: $100 / Umpire Fees: Pay-at-the-Plate $35
Tournament
All teams
Girls: 18U, 16U, 14U, 12U, 10U, 8U
A/B/C ability level(s)
entry fee
Location
Chappapeela Sports park
19325 Hipark Blvd
Hammond

,
LA
,

70403
Directions
General Information
All in Athletics Tournament Information
Format: 3 Game Guarantee - 1 pool game & double elimination bracket Entry Fee: $100 / Umpire Fees: Pay-at-the-Plate $35
Bring to Check-in at tournament: Tournament entry fee $100 (payable to All in Athletics) & Copy of current insurance certificate.
Rule Clarifications & Modifications:
Pool Games: Pool game matchups are pre-determined Pool games are 60 minutes finish the batter Pool games are practice and do not determine bracket seeding. *Pool games can end in a tie.
Run Rule: 3 or 5 (agreed upon by the coaches at pregame plate appearance) Runs per 1/2 inning in pool play (or # runs as agreed by coaches)
Bracket Games: Bracket game matchups are determined by blind draw at check-in.
Bracket games are 60 minutes finish the inning - up to 5 innings Bracket games cannot end in a tie. International tiebreaker rule applies to ALL BRACKET GAMES.
-Game balls - you can use your own 47 COR 375 max.
-Home/Away determined by a coin flip winner chooses except for the championship game where the undefeated team is home.
-
"If necessary" games (played as an ITB) are also determined by a coin flip
(1 inning).
-Teams have 5 pitches or 1 minute after the last out is recorded to warm up.
-The Home team is responsible for providing the official scorekeeper(s).
-Umpires will collect line-ups for all bracket games.
-Teams must be prepared to play up to 30 minutes prior to scheduled game times to avoid forfeiture of game.
-Game time limits & number of pool games are subject to change when necessary (due to weather etc)
Rulebook:
https://allinathletics.net/rules/
GATE FEES:
Adults $7 Kids (7-16) $5 Kids 6 & Under FREE
*PLAYERS & UP TO 3 COACHES ARE FREE
No Ice Chests - Outside food/drinks are not allowed in park - Water is provided in dugouts
WEATHER UPDATES (IF NECESSARY) will be sent our via our tournament system to the coaches and or fans that follow their team on our site.
**To follow a team on our site, click on the team name and you'll see a notifications section, fill in the phone number and it will text you any updates about the team thru our system that is auto-generated.
---
All event related questions should be directed to Jonathan at Jonathan@allinathletics.net or call (985) 284-4391.
YOUTH BASEBALL EVENT, TOURNAMENT AND LEAGUE DIRECTORY
Market your event by submitting it to our directory.
Submit Event