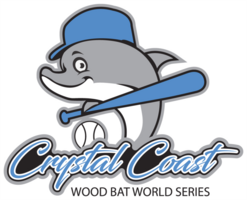 Top Notch Tournaments
presents
2019 Crystal Coast Wood Bat World Series Schedule
Morehead City, North Carolina
Messages
2020 CCWBWS Information
July 17-19, 2020! Save the date and register your teams now!
Register Team-

Merry Christmas to all of you!
12/15/2019 8:43 PM
2020 CCWBWS Information
July 17-19, 2020! Save the date and register your teams now!
Register Team-

Merry Christmas to all of you!
12/15/2019 8:41 PM
Fall Dates / Paid Berth
We are offering 5 events this fall and you can check all of them out here:2019 Fall/Winter Dates

Also - if your team Won their Championship Bracket at the 2019 CCWBWS you can play for "Free" Nov 9-10, 2019 in the TNT Winter Wood Bat World Series @ Kinston, NC. You will need to confirm your team by 9:00 PM on Mon Sept 16, 2019. We are taking only 10 teams in age divisions 8U through 12U and in 13U and 14U we are limiting it to 6 teams! Get the details and register here:This is a 3 game format, some could play up to 5 or 6 games.

Donnie
8/4/2019 7:51 PM
Dick's Slugger Event
Update - Registration is now OPEN to 8U through 14U Divisions. "Dick's Youth Slugger Event at the Crystal Coast Oct 26-27, 2019" . We are waiting on a few details from Dick's that we should have in a matter of days so here's what we have for all of you now! We will take a maximum of 6 teams in 8U,9U,10U,13U and 14U and a maximum of 12 teams in 11U and 12U for this years event! All teams will receive a team merchandise package from Dick's Sporting Goods that you will not want to miss out on! Dick's Rings For Champions & Runners Up. Pre Tournament Home Run Derby on Friday Oct 25 @ 7PM. Click on the following link for more details and to sign up your team! https://docs.google.com/forms/d/e/1FAIpQLSc6ok-M-D99p9zEz0KQdG3EyMtEC0SAHglPM54xwfYaDq3iSw/viewform?usp=sf_link
7/30/2019 10:29 PM
Congratulations Champions
Congratulations to all of the 2019 Crystal Coast Wood Bat World Series Champions and a big, big shout out to all of the players in the event who embraced the challenge of playing with a wood bat. This is how the Game was intended to be played and all of you brought a TON of excitement across all of the fields this year. I want to close by saying I have been part of many tournaments and games and this years#ccwbwssits a top of the list. It has been a long time since I had the opportunity to get out and make presentations on Sunday. And, when I was on field 3 at Swinson Park with the 10U EC Tribe & Dirtbags their energy & class made me miss all of the families and players that I coached and traveled with. Thanks to all of you for your Sportsmanship and for playing#realbaseballat the#crystalcoast/ - Donnie
8U Elite Gold – Carolina Titans - Ricks
8U Elite Silver –Carolina Chargers
8U Select Gold –Coastal Closers
8U Select Silver - Mizuno Blacksox
9U Elite Gold- Carolina Rampage
9U Elite Silver- Western Tidewater Rage
9U Select Gold-Carolina Storm Surge
9U Select Silver-Granville Rays
10U Elite Gold –East Carolina Tribe
10U Elite Silver – Carolina Titans
10U Select Gold-Carolina Chargers
10U Select Silver-Winterville Knights
10U Classic Gold-West Raleigh Red
10U Classic Silver-West Carteret Babe Ruth
11U Elite Gold –Carolina Titans
11U Elite Silver –Dirtbags East Gold
11U Select Gold-Team Premier - Modlin
11U Select Silver-US Elite
12U Elite Gold –Carolina Rage
12U Elite Silver -Carolina Titans
12U Select Gold-Cove Creek All Stars
12U Select Silver-Carteret Co Patriots Red
13U Elite Gold –Dirtbags Black
13U Elite Silver -Rawlings Prospects NC 2024
13U Select Gold-Virginia Mariners
13U Select Silver-LKN Hurricanes
14U Elite Gold –Rawlings Prospects NC 2023
14U Elite Silver -Skeeters
14U Select Gold-Virginia Beach Knights
14U Select Silver-Carolina Titans
15U Elite Gold –Zone Select
15U Elite Silver -US Elite
15U Select Gold-EC Batbusters
15U Select Silver-Cove Creek All Stars
If there are any typos please comment and I will correct.
7/23/2019 9:11 PM
Home Runs
Coaches/ Parents - If your Slugger recorded a Home Run(s) in an official game @ the 2019#ccwbwsplease submit this form. Batted ball must have cleared outfield fence.https://forms.gle/nWizGZnu9cqLG4QJ8

The trio pictured beow combined for 5 Dingers @ the#ccwbwsand propelled their 14U Rawlings Prospects to an Elite Division Gold Championship!


7/23/2019 8:15 PM
Thank You!
It was a pleasure hosting all of your teams and families at the Crystal Coast Wood Bat World Series! If you are on Facebook you can like our pagehttps://www.facebook.com/topnotchtournaments/and scroll through to find many videos and photos that our Social Media team captured this weekend. Go check it out and Save the Date: 9th Annual CCWBWS will be July 17-19, 2020.


Also, for all that can attend -

There is a Major Event Coming This Fall: Top Notch Tournaments has been offered to host 1 of only 10 events that will be held Nationwide and we have accepted! Dick's Youth Slugger Series by Dick's Sporting Goods will be held at the Crystal Coast October 26-27, 2019! EVERY TEAM that participates will receive a MAJOR merchandise package from Dick's! This is an event like no other and we are super excited to offer this to our teams. Age Divisions 8U through 14U limited to 55 teams total. Complete details will be released on Tuesday July 30, 2019! If you are a Travel Baseball team you do not need to miss this opportunity! Thank you Dick's Sporting Goods for making this available in our baseball market! Stay tuned for more and get READY!

Donnie Harper
Top Notch Tournaments
Crystal Coast Wood Bat World Series



7/21/2019 10:58 PM
Baseball Chapel
Will be offered after completion of first games at the venues listed below. Participation is voluntary and we would like to thank Todd Rust and The Iron Men for their continued support of the teams and families of the #ccwbws.

Croatan High School - near concession stand
Western Park -near concession stand
Swinson Park -near concession stand
Fort Benjamin - near maintainence shelter.
7/21/2019 8:09 AM
9U Bracket
Brackets are posted - best of luck to all of you tomorrow!
7/19/2019 10:18 PM
11U Bracket
Brackets are posted - thank you all for an excitng day of Baseball and best of luck tomorrow!!
7/19/2019 9:42 PM
11U Bracket
Brackets are posted - thank you all for an excitng day of Baseball and best of luck tomorrow.
7/19/2019 9:40 PM
Dress cool for derby
Uniforms are not required - dress accordingly.
7/18/2019 1:00 PM
Weather Alerts
Good Afternoon to All of You,
We have a dedicated team in place at the Crystal Coast that's made up our Baseball Ops, Parks & Recreation, local leagues and high school baseball teams. Together, we are "all hands on deck" & always 100% committed to all of your teams and to the event itself.
We are preparing for mostly sunny conditions with a chance of "scattered" Thunderstorms as can be expected this time of year. It does not look to be a "full" rain event.
As we get ready, you can help us keep your team and others updated in a timely manner. When you hold your calls and texts it allows our team to work and to communicate more efficiently. This is crucial in keeping the website, schedule and messaging app up to date.
We encourage all of you to share with your team and to take advantage of the messaging app by "clicking" on your team name in the Pool Play listing and look for "notifications" It is 100% FREE, and you can unsubscribe when the event is completed.
Then:
Check the message app and the website https://www.crystalcoastwoodbatworldseries.com/Game-Times.html when you awake, throughout the day and at lights-out.
If you have rain at your park and should your game be stopped a coach from your team should check with the Site Director. Often enough with "scattered" Thunderstorms if a delay is necessary it can be short term.
Each park is different, and delays can be longer. If any delay has your team leave the park check the messaging app & website for updates.
If you wake up to rain and you have not be notified of any changes be at the park 1 hour prior to your first game and prepare to play.
Updates and Alerts are important to All Participants and we thank you in advance for your cooperation.
7/17/2019 3:24 PM
Team Cooler Info
Just want clarify what you can bring in for your coaches and players in the team cooler. I recommend one large enough to accomadate the following:

Soda, water, sports drinks etc.
Sandwiches, snacks, salad, fruit etc.
Cooling towels.
If personal water bottle for the player, place in his/her Bat bag
The team cooler may be restocked as needed throughout the day or event. I want your teams to be comfortable, hydrated and nourished at all times. It is sure to be HOT so plan accordingly for what your team will consume.
Also, some are inquiring about places to eat. There are many good choices in the area. Some favorites are Clawson's 1905 Restaraunt in Beaufort, Ruddy Ducks and also the Sanitary Restaraunt on the Morehead City waterfront, Amos Mosguitos and Cox Family Restaraunt in Morehead City. Again - many choices to choose from and you can find all of them here
https://www.crystalcoastnc.org/region/all/dine

I
hope this is helpful to all of you in planning your weekend at the Crystal Coast!
Donnie 7/15/2019 2:49 PM
Tents -Fans - Pets
We welcome pop up tents at all of the venues. We request not to put them up behind Home Plate or where they would block the view of anyone sitting in bleachers. If you have cooling fans for your dugout they are allowed as well. Also, I am not aware of any restrictions on bringing your pet to the park so long as they are on a leash and "scoop" after. Hope this helps all of you prepare for the weekend!
7/14/2019 4:03 PM
Derby Upate
There are over 130 players entered. Pre Registration for the Home Run derby will close at 9:00 PM on Wednesday July 17 - you may still register at the parks between 5:00 and 6:00 PM on Thursday. To Pre Register click here

Best of luck to all who are entering the Derby and Thank You for supporting Morehead City Little League and West Carteret Babe Ruth-CR. 100% of all Derby Proceeds go to these great organizations!


7/14/2019 3:43 PM
Red, White & Blue
https://www.facebook.com/topnotchtournaments/posts/2613662791977335


We are all Stewards of the Game and the Freedoms we enjoy - and, We are handing off all that we hold Dear to the next Generation. There's no better way to guarantee this will transcend through our Sons and Daughters than to Celebrate all that is good in this World. Baseball brings us All together where we can assemble Freely under the Sacrifices that have been made for all of us. Baseball is, and always will be the Greatest Game and there's no Greater Freedom than what we share in the USA.! Let's Paint the Crystal Coast Red, White & Blue at the#ccwbws. Bring your Flags, your banners, face paint etc and show your Love for the USA!#celebrate#family#baseball#freedom#usa#redwhiteandblue
7/11/2019 12:59 PM
Dick's Store Wide Sale!
COACHES & PARENTS: The Crystal Coast Wood Bat World Series is pleased to announce an exclusive offer from DICK's Sporting Goods.
Save 20% off your entire purchase on July 19th-21st, 2019.
Simply follow the link below to enjoy the a 20% discount on your purchase!

Click Here To Access & Print Coupons

Then Go See Them!

DICK'S Sporting Goods, 5130 Hwy 70 W, Morehead, NC 28557



No Gate Fee At Derby
Just to clarify for everyone - we will not collect a Gate Fee at the Home Run Derby on Thursday evening July 18, 2019. Please pass this along to your team & families.
7/7/2019 6:13 PM
Need Bats For The Events
The Keep Swinging Stix Wooden Bat Company is sponsoring the Crystal Coast Wood Bat World Series and will be offering discounted priced MLB Grade Bats and Vulcan Bat Grip Tape for the event. Theywill be offering specially priced bats that can by

PRE-ORDERED UNTIL SUNDAY, JULY 14TH, AT 5PM

.Bats and grip tape will also be available for purchase at their booths throughout the duration of the tournament.
PLEASE READ THROUGH

ALL

IMPORTANT INFORMATION
TEAM AND INDIVIDUAL ORDER INSTRUCTIONS BELOW
ALL TEAMS RECEIVE DISCOUNTED PRICING ON PRO STOCK BATS, FULLY CUSTOM BATS,
AND VULCAN BAT GRIPS
INDIVIDUAL, GROUP, AND TEAM WOOD BAT PRICE OPTIONS
ONE MLB GRADE BAT (28 in - 33 in, Up to 2 custom colors)
$60 PER BAT
TWO MLB GRADE BATS (28 in - 33 in, Up to 2 custom colors)
$55 PER BAT
THREE+ MLB GRADE BATS (28 in - 33 in, Up to 2 custom colors)
$50 PER BAT

VULCAN BAT GRIP TAPE (Assorted Colors)
$15 EACH, ADD $5 FOR INSTALLATION
FOR PERSONALIZING (NAME, NUMBER, TEAM NAME ENGRAVED ON BARREL, 2 CUSTOM COLORS)
$15 EXTRA FEE
FULLY CUSTOM TEAM SET (12 BATS, 1 COACH FUNGO, FULLY CUSTOM COLORS AND PERSONALIZING)
$699 PER TEAM SET

All bats will be made of MLB Certified Wood (24 inches of guaranteed straight grain) and made from Keep Swinging Stix most popular models, either the Model 1221 - thin handle, moderate large barrel or Model 885 - thin to mid handle, extended barrel. 28 inch through 30 inch bats typically fall between a -5 and a -8 length to weight ratio. 31 inch through 34 inch bats fall between a -2 and a -3.
CONTACT PETE (CALL OKAY,

TEXT IS PREFERRED

) AT 773-742-0795
Bats will be available at tournament main sites one hour before the start of the first sets of games.
Cash, credit cards, and checks will be accepted on site. Pricing is discounted from the website - orders placed through the website and not directly with a Keep Swinging Stix Staff Member will be subject to full retail pricing.
BATS WILL BE AVAILABLE FOR SALE ON-SITE THROUGHOUT THE TOURNAMENT
Pricing for bats and grips will be the same as above. Bat sizes and colors will be assorted. Electronic and cash payment options will be available on-site.
Keep Swinging Stix Wooden Bat Company



Dinger Derby Alert
CCWBWS Home Run Derby
Thursday July 18, 2019

Please distribute to your families.

250 Players participated last Summer! Top Notch Prizes for the Champion in each age group.

This is for Meatal Bats-Save that Wood for Games!

100% of all proceeds go Morehead City Little League & Western Carteret Babe Ruth-CR.

Concessions will be open at each loation!
Tournament Tee's will be on sale!

Loactions:
Western Park (8,9,13 & 15/HS)
Swinson Park (10,11,12 & 14U)

Registration & Check In 5:00-5:45
Derby begins @ 6:00 PM

Players can pre-register online here

Cost $20 (Pay at check in)

Rules Including Fence Distances

Banned Bats
7/5/2019 1:03 PM
Click on a division below or search for a team or athlete to view the schedule.
---
All event related questions should be directed to Donnie Harper at donnie.harper@topnotchtournaments.com or call 7048607011.